Starting From $77,888*
Immediate Registration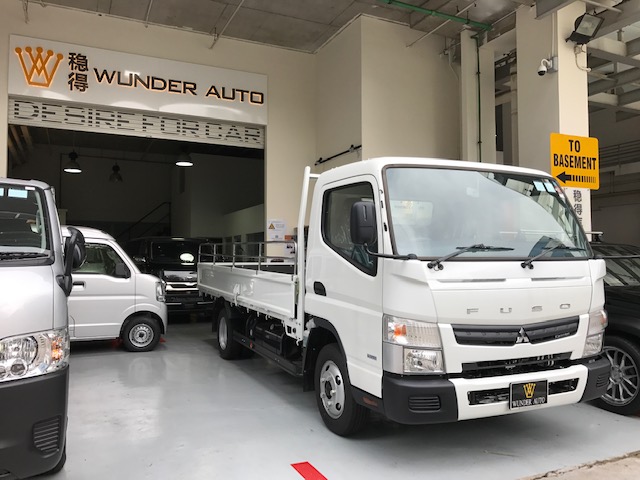 The FUSO Canter is well liked by many due to its high dependability and superior fuel efficiency, assisting businesses in maximising their day-to-day productivity. Designed to operate in all environments, it provides a smoother driving performance with its cutting-edge technology, ensuring maximum comfort for you.
Performance
112 kW (150 bhp)
10.6 km/L
Color
Interior: Black
Exterior: White, Silver
Engine
3.0L 4- Cylinder In-line 16 Valve
Diesel (Euro VI)
Engine
Engine capacity
2,998 cc
Engine type
4-cylinder in-line 16-valve
Compression ratio
unknown
Bore x Stroke
unknown
Fuel type
Diesel (Euro V)
Performance
Power
112kW (150 bhp)
Torque
370 Nm
Acceleration
unknown
Top speed
unknown
Fuel consumption
10.6 km/L
CO2 emission
unknown
Misc technical data
Transmission
5-speed (M)
Drive type
Front-wheel drive
Measurements
Vehicle type
Commercial
Dimensions (L x W x H)
(6180 x 2040 x 2235) mm
Wheelbase
3,400 mm
Min turning radius
5,800 mm
Kerb weight
4,885 kg
Fuel tank capacity
100 L
Boot/Cargo Capacity
unknown
Brakes
Brakes (Front)
Unknown
Brakes (Rear)
Unknown
Suspension
Suspension (Front)
Leaf spring
Suspension (Rear)
Leaf spring
What is Early Turnover Scheme (ETS)?
ETS is Government's effort to reduce ambient levels of particulate matter and achieve Singapore's 2020 air quality targets. It incentivises eligible vehicle owners to encourage early replacement of old diesel vehicles with cleaner models, such as electric vehicles or vehicles which comply with Euro5 / Euro6 or equivalent.
Validity Period
24th April 2013 to 31st July 2017 inclusive
Pre- Euro 2
1st August 2015 to 31st July 2019 inclusive
Euro 2/3 vehicles
Allow you to transfer unused COE period from your existing vehicle to your replacement vehicle.
Enjoy a bonus COE period for the replacement vehicle, which is proportional to your existing vehicle's remaining 20-year lifespan.
Do not need to bid for a new COE and only need to pay a discounted Prevailing Quota Premium (PQP) for your replacement vehicle after.
Want to Trade-In Or Sell Your Used Car?
Get a Free Valuation of your vehicle price from our friendly consultant. Get cash or trade it in for any car on our lot.
Location
7030 Ang Mo Kio Avenue 5
#01-01 Northstar Building
Singapore 569880
Email
enquiry@wunderauto.com.sg
Open Hours
Mon: 9am – 6pm
Tue: 9am – 6pm
Wed: 9am – 6pm
Thur: 9am – 6pm
Fri: 9am – 6pm
Sat: 10am – 5pm
Sun: 10am – 5pm
Closed on Public Holidays