Toyota hiace dark prime super gl
Starting From $83,800*
Immediate Registration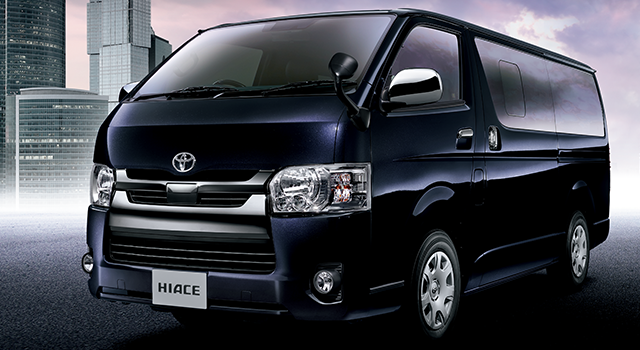 A special high ace that exudes a different sense of presence while maintaining a large space and lonely runnability. 
From here, from now on, I will start running, I will look forward to tomorrow.
The place of activity is global. Demand levels in overseas markets are high, and 
there are severe reality such as driving over 1 million km and loading of more than 20 passengers. Assuming various usage environments, 
we carry out durability tests of parts and mechanisms at distances and times that are many times larger than usual . The result of the study which looked at every possibility built the overwhelming quality and reliability.
Performance
111 kW (151 bhp)
12.4 km/L
Color
Interior: Black
Exterior:

 Black Mica

 Bordeaux Mica Metallic

 Gray


 White Pearl Crystal Shine

Sparkling Black Pearl Crystal Shine
Engine
2.8L 4- Cylinder In-line 16 Valve DOHC
Diesel (Euro VI)
Misc Technical Data
6-Speed (A)
Front-Wheel Drive
DIMENSIONS AND WEIGHTS
Overall Length / Width / Height mm: 4,695 / 1,695 / 1,980
Wheelbase mm: 2,570
Thread Front / Rear mm: 1,470 / 1,465
Deck Length / Width / Height mm 2,930 / 1,545 / 1,335
Min. Turning Radius m: 5.0
Ground Clearance mm: 195
Gross Vehicle Weight kg: 1,140
Kerb Weight kg: 2,800
Payload kg: 1,140
Seating Capacity (Including Driver): 2/5
ENGINE AND TRANSMISSION
Engine Type: 2.8L Turbo Diesel, 4-Cylinder In-Line, 16-Valve, DOHC
Capacity cc: 2,754
Max. System Output kw (bhp) / rpm: 111 (151) / 3,600
Max. Torque Nm / rpm: 300 / 1,000-2,400
Fuel System: Common-Rail
Transmission: 6-Speed Auto
Emission Standard: Euro6 Compliant
FUEL CONSUMPTION
Combined litre / 100km (km / litre): 12.4 (12.0)
CO 2 Emission g / km: 210 -226
Fuel Tank Capacity litres: 70
CHASSIS
Suspension Front / Rear: Double Wishbone / Leaf Spring, Rigid
Brakes Front / Rear: Ventilated Disc / Dual Two Leading Drum
Tyres: 195R15C
IMPRESSIVE PERFORMANCE

All the power a business needs and more
DIESEL PARTICULATE FILTER (DPF) SYSTEM
CLEANER EMISSIONS AND SMOOTHER PERFORMANCE
Any trapped accumulated particulate matter (PM) is removed via the DPF system. This is
done either through manual regeneration activated by a switch, or by driving continuously at
approximately 60km/h for about 20 minutes.
To perform manual regeneration:
1. When the indicator lights up, park the vehicle quickly and safely with the engine idling.
2. Put the transmission in neutral and engage the parking brake.
3. Press the manual regeneration switch as shown to start cleaning.
4. Cleaning will take approximately 15 to 40 minutes. Once it's done, the indicator light will turn off.
1KD-FTV ENGINE
SUPERIOR HORSEPOWER AND FUEL EFFICIENCY
Power up with a 3.0L turbocharged diesel
engine, which comes with high torque, quick
acceleration and low fuel consumption.
SUPERIOR SAFETY

Protection you can count on
EMERGENCY-LOCKING RETRACTOR (ELR) SEATBELTS
BETTER PROTECTION
Stay safe and secure with ELR seatbelts that
provided added protection for both driver
and passengers.
SAFETY
Front Disc Brakes
Load Sensing Proportioning Valve (LSPV)
Emergency Locking Retractor (ELR) 3-Point Seatbelts
Rigid Rear Frame and Body Structure
What is Early Turnover Scheme (ETS)?
ETS is Government's effort to reduce ambient levels of particulate matter and achieve Singapore's 2020 air quality targets. It incentivises eligible vehicle owners to encourage early replacement of old diesel vehicles with cleaner models, such as electric vehicles or vehicles which comply with Euro5 / Euro6 or equivalent.
Validity Period
24th April 2013 to 31st July 2017 inclusive
Pre- Euro 2
1st August 2015 to 31st July 2019 inclusive
Euro 2/3 vehicles
Allow you to transfer unused COE period from your existing vehicle to your replacement vehicle.
Enjoy a bonus COE period for the replacement vehicle, which is proportional to your existing vehicle's remaining 20-year lifespan.
Do not need to bid for a new COE and only need to pay a discounted Prevailing Quota Premium (PQP) for your replacement vehicle after.
Want to Trade-In Or Sell Your Used Car?
Get a Free Valuation of your vehicle price from our friendly consultant. Get cash or trade it in for any car on our lot.
Location
7030 Ang Mo Kio Avenue 5
#01-01 Northstar Building
Singapore 569880
Email
enquiry@wunderauto.com.sg
Open Hours
Mon: 9am – 6pm
Tue: 9am – 6pm
Wed: 9am – 6pm
Thur: 9am – 6pm
Fri: 9am – 6pm
Sat: 10am – 5pm
Sun: 10am – 5pm
Closed on Public Holidays